Asbestos Hazard Control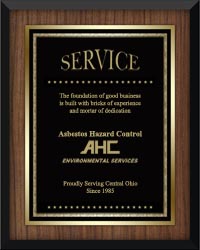 AHC, Inc. was founded in 1985 by Ron Geiszler when the asbestos abatement industry was still in its infancy. Always keeping his philosophy of, "Customer First" and working to the highest ethical and safety standards, he set the foundation for the first class environmental remediation company that became what AHC, Inc. is today. For that, all of us at AHC, Inc. simply say "THANK YOU Mr. G!"
The asbestos abatement services provided by AHC Environmental Services focus on removal or encapsulation of asbestos containing materials (ACM), while complying with all established government regulations. We also provide inspections to confirm or refute the presence of ACM. By providing this service we can evaluate the condition of these asbestos containing materials and develop a plan to alleviate the hazard. We have provided assistance to federal, state and local government agencies, private and public industry, schools and individual homeowners. All workers are state licensed and receive on going training regarding new technology, products, and safety. Each worker has passed a comprehensive physical examination to medically qualify for asbestos abatement work.
Our job site organization, procedural techniques and equipment have been reviewed by the Ohio Industrial Commission, Environmental Protection Agency, and the Ohio Department of Health. Each of these agencies has conducted announced and unannounced site visits to confirm our compliance with individual agency mandates.
AHC will complete a project with a minimum of inconvenience to daily building activities. At the conclusion of the project, we will provide a detailed report. In summary, we have the personnel, experience and equipment to assure that building owners get what they require: a safe, well organized, and properly insured abatement project.